CHARLEY PRIDE, ASLEEP AT THE WHEEL HEADLINE 2nd BOB WILLS FEST
Texas Playboy Leon Rausch — a living link to Bob Wills —
To Perform During Community's Oct. 15-18 Fiddle Festival & Contest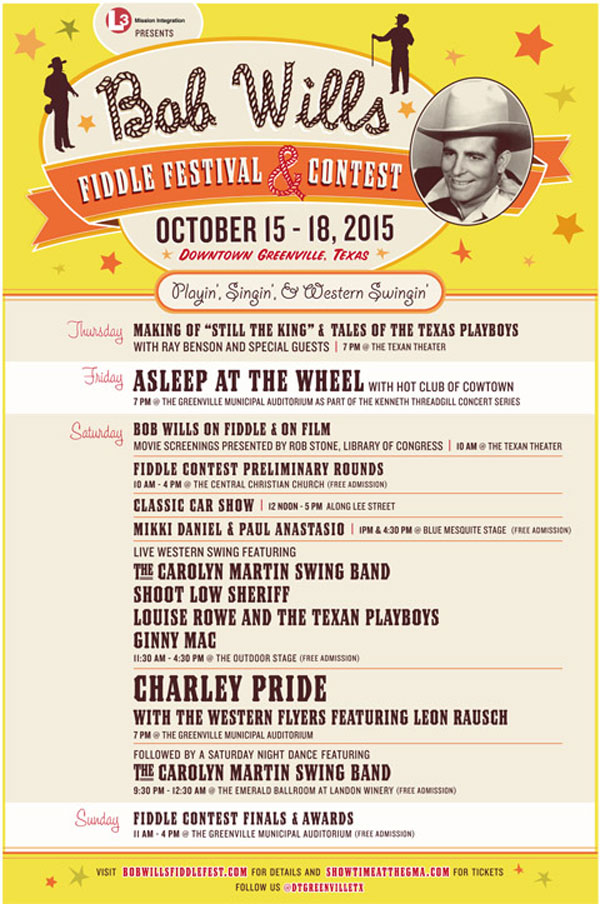 Last year's inaugural Bob Wills Fiddle Festival & Contest was such a hit, the second annual celebration of Texas' famed western swing king and music-loving culture will be even bigger. The extravaganza in downtown Greenville has been expanded to four days, Oct. 15-18, 2015, with many free, family-friendly events, from the lively fiddle competition to dancing and screenings of films featuring Wills and his music.
Presented by L-3 Mission Integration, the festival includes a seven-category, all-ages fiddle contest awarding $8,500 in cash and prizes, a Friday-night concert by nine-time Grammy winners Asleep at the Wheel with opening act Hot Club of Cowtown and a Saturday-night performance by Country Music Hall of Fame legend Charley Pride, with the Western Flyers featuring Leon Rausch. Rausch, of Fort Worth, was known as the voice of Bob Wills and His Texas Playboys in the late 1950s and early '60s.
Tickets for Pride's concert are $35 to $75; tickets for Asleep at the Wheel, a Kenneth Threadgill Concert Series presentation, are $31 to $51. Tickets may be purchased at showtimeatthegma.com, by calling the Greenville Municipal Auditorium box office at 903.457.2994 or by visiting the box office at 2821 Washington St. Showtime is 7 p.m. both nights.
Saturday at 10 a.m., film expert Rob Stone will present a free screening of Bob Wills films and rare, music video-like "Snader telescriptions" from the early 1950s. The films, courtesy of the Library of Congress, will air at the Texan Theater, 2712 Lee St., and loop in the theater lobby as part of the "Aw-Haww!" exhibit of Wills and Audie Murphy movie and music memorabilia.
Fiddle contest preliminaries take place Saturday from 10 a.m. to 4 p.m. at the historic Central Christian Church, 2611 Wesley St. A western-swing concert featuring Carolyn Martin Swing Band, Shoot Low Sheriff, Ginny Mac and Louise Rowe and the Texan Playboys takes place Saturday from 11:30 a.m. to 4:30 p.m. on the outdoor stage downtown. (Rowe was the only female instrumentalist Wills ever hired.) Sunday fiddle finals will be held from 11 a.m. to 4 p.m. at the municipal auditorium (built in 1939 by the federal Works Project Administration). Admission is free to all three events.
Following Pride's show, the Carolyn Martin Swing Band will headline the free Saturday Night Dance. That takes place from 9:30 p.m. to 12:30 a.m. at the Emerald Ballroom at the Landon Winery on the courthouse square. (Martin played with Vince Gill as a member of the Time Jumpers prior to their headlining appearance at the 2014 festival.)
The festival kicks off at 7 p.m. Thursday, Oct. 15, with a sponsor appreciation/VIP event at the Texan Theater. Asleep at the Wheel's Ray Benson and guests will discuss "Tales of the Texas Playboys" and making ASTW's third Wills tribute — the March 2015 release, Still the King: Celebrating the Music of Bob Wills and His Texas Playboys, which reached No. 11 on Billboard's Top Country Albums chart.
"Last year's festival was magical," said Wills' daughter, Carolyn Wills. "And now, with an added day, 2015 is prepared to swing."
The no-entry-fee contest is directed by Fort Worth educators Joey and Sherry McKenzie, both award-winning fiddlers. Last year's contest drew 65 participants from 10 states; even more are expected this year. Categories are: Junior Junior (age 12 and under), Junior (13-17), Adult (18-59), Senior (60 & up), Accompanist, Bob Wills and Open. For rules and entry, go to twinfiddleproductions.com.
"Wills did so much to further fiddle music and expose people to western swing," said Joey McKenzie. "He also played in fiddle contests as a young man. So combining a world-class contest with a festival honoring him is long overdue."
The event also honors Wills' legacy by promoting his craft, according to festival chairman Larry Green Jr. "We are so appreciative of the Wills family and the Bob Wills Heritage Foundation for their faith in Greenville, which helped us gain so much community support to expand this event."?
For information about the Bob Wills Fiddle Festival & Contest, including lodging, go to bobwillsfiddlefest.com.
Find festival news at:
facebook.com/bobwillsfiddlefest
twitter.com/DTGreenvilleTX
Festival contact: Kevin Banks, kbanks@ci.greenville.tx.us
Media contacts: Jill McGuckin, 512.217.9404, jill@mcguckinpr.com
Heidi Labensart, 512.698.2621, heidi@mcguckinpr.com

TO LEARN HOW YOU CAN CONTRIBUTE TO THE GMA NEW SEAT PROJECT,
please visit the seat campaign website
Submit your email address to be notified of future concerts.