Something special is always
happening in Downtown Greenville!
Greenville is the Live Music Capital of Northeast Texas - Live Music Info
Farmers Market - open Saturday mornings through the summer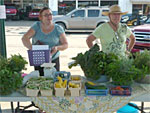 The downtown Farmers' Market focuses on LOCALLY GROWN produce, so it's truly seasonal and fresh from the farm! AND it's another thing that makes Downtown Greenville a special place!

Visit the web site and sign up to receive the weekly newsletter listing everything available each week.

Cotton Patch Quilt Guild Quilt Display
and Raffle at Uptown Forum -
September 13-20
About 20 quilts rom the Cotton Patch Quilt Guild will be hung in the setting of the historic Uptown Forum building, plus a vintage signature quilt from Lone Oak. There will also be baby quilts for sale. Volunteers will be on hand to explain techniques used to make the quilts.

The gorgeous 2014 Raffle Quilt is pictured here.


Rally 'Round Greenville! - Sept. 19 through 21. Entry is FREE!!!
Music of all types will again take center stage at the Rally 'Round Greenville WOW Weekend Sept. 19 through 21.. Friday Night Kick-Off Concert/Street Dance with Emerald City Band (shown at right) in front of Landon Winery. This is the fourth year for Rally to feature the group described as Dallas' top-rated dance band. 'Motion, movement, and energy are three words that best describe this 13 piece, 3 horn section super group that electrifies every audience with a combination of high energy dance songs from the past with the hits of today.'

Music continues Saturday on the Bud Light Stage with performances by Jack Ingram (shown at left), James McMurtry, Matt the Cat Trio, Southern Backtones, The O's, and Matt Dunn.

Reverend Horton Heat will be this year's headliner on the Bud light stage Saturday evening. Originally based in Dallas, Texas, the trio formed in 1985 playing gigs in the Deep Ellum area. Their sound is self-described as "country-fed punkabilly," with lyrics that are usually humorous.

A third stage will be added this year – a singer/songwriter stage featuring; Greg Schroeder, The Travis Parker Band, Cast Shadows, Cherish Lee, Carter Hulsey, Ryan Reid, Lane Thomas and Ed McGory.

Sponsored by:

It's a Musical WOW Weekend! Don't miss it.

Greenville Rotary Club's Annual Haunted Landmark Haunted House -
Every weekend in October

Enjoy a wild time in a suddenly-spooky historic downtown building.

Bras for the Cause - October 9

Fire up the glue guns! It's time to create a bra for Bras for the Cause!

We released the Call for Bras which has everything you need to know in order to create your entry for this year's Bras for the Cause. Download a printable copy of the guidelines, list of awards and the all-important reminder that it's FREE to enter a bra!

Make plans to attend Bras for the Cause on Thursday, October 9 in Downtown Greenville. Viewing and voting will be from 6:00 - 8:30 and the awards ceremony should begin around 9:15 once the votes are counted.

The creativity will amaze you! All proceeds are donated to the Hunt Regional Healthcare Foundation and Janice's Closet at the hospital.

Threadgill Concert - Friday, October 10, 2014 7:30 pm, GMA
Marty Stuart and The Fabulous Superlatives

with special guest Amber Digby

The Odd Couple - October 9-11, 8 pm & October 12, 2014 2 pm at The Texan Theater
Neil Simon's The Odd Couple, starring Jody Dean and Jon Cartier, opens the all-new Texan Theater.

After extensive renovation the former movie theater's debut production showcases Greenville's newest entertainment venue.

Ticket information coming soon!



A Concert to Die For - Sat., Oct. 18, 2014 8 pm
Two Star Symphony is known as the most unusual music ensemble in Houston. In this band each representative is also a composer, unlike any other classical band. Music is created with each member bringing their own piece to make one magnificent sound. Two Star Symphony memorizes all music and focus' more on the sounds of their instruments than following along a sheet of paper. Their dark and distinctive sound will impress listeners new and old.


Ancient Cat Society delivers amazing folk/bluegrass harmonies by Buxton band front man Sergio Trevino and the enchanting Haley Barnes, along with band mate Austin Sepulvado on guitar.The group's bare-bones spirituals of faith, doubt and discovery have drawn droves of roots-minded, reverent hipsters to their performances.

The performance takes place in the former Stringer Mortuary building located on the east side of Stonewall just south of the downtown square in what is now occupied by local artist studio, Downtown Art Party. Completed in 1925, details of the building's Egyptian Revival architecture can still be seen. Tickets include concert with Two Star Symphony and Ancient Cat Society, adult beverages and light snacks. No reserve seating. Limited Seating.

Video
Bob Wills Fiddle Festival - October 31-November 2
The Bob Wills Fiddle Festival and Contest will take place the weekend of October 31st through November 2nd at venues around downtown Greenville, including the Texan Theater, which will re-open this fall following a multi-million dollar renovation, and the historic Municipal Auditorium.

A fiddle contest featuring nationally recognized judges will draw fiddlers of all ages from around the country for preliminary rounds on Saturday and finals on Sunday.

The evenings will feature nationally known Western Swing acts at the Texan Theater and GMA. The Saturday night concert at the GMA will be headlined by the Time Jumpers, whose members include Vince Gill and Nashville session fiddle player and Whitewright native Larry Franklin.
Threadgill Concert - Tuesday, December 2, 2014
Michael Martin Murphey's "Cowboy Christmas" at the GMA
Ghost Walk - 6:30 pm Friday and Saturdays
Learn about Tom King and his mistress Kate Austin's untimely death!

Ghost hunters and curiosity-seekers find Greenville, Texas full of mystery and unsolved happenings.

Wealth, scandal, and notorious figures from the past stir the imagination.

Weekend Ghost Walks feature a haunted winery, a theater where famous actors from the past still perform and a depot where ghostly passengers wait for trains that no longer arrive.

Hear about a Victorian triple-drowning, Civil War conflicts, an early red light district , and moving objects at the site of a former gallows.

Tour conducted by guide in Victorian costume, Fridays and Saturdays, beginning at 6:30 pm at the "The Spot" Garden, 2800 Lee Street in downtown Greenville. $12 per person. Contact Steven Reese for more details, 903-217-8851.






Landon Winery, winery tours Saturdays at 2 pm
Learn about all aspects of wine making (and taste samples!) at Landon Winery wine tours each Saturday beginning at 2 pm.

This winery on the north side of the Hunt County Courthouse Square (2508 Lee Street) is now Texas' 10th largest production winery. Housed in a former 1930s Kress Department Store, Landon Winery features many award-winning wines and ambience to match.

Greenville is the Live Music Capital of Northeast Texas!
Showtime at the GMA
Music and more at the Greenville Municipal Auditorium.

Threadgill Concert Series
Texas Country music presented by your favorite artists.

Greenville Entertainment Series
Attendance by Hunt County residents is by annual membership only. However, a limited number of tickets are available for out-of-county visitors at the Greenville Chamber of Commerce/ Convention and Visitor Bureau and at several participating hotels/motels.

Greenville Symphony Series
Attendance by Hunt County residents is by annual membership only. However, a limited number of tickets are available for out-of-county visitors at the Greenville Chamber of Commerce/ Convention and Visitor Bureau and at several participating hotels/motels.