Site Search
Enter Key Words:

Downtown Greenville, Texas is a treasure trove of eclectic riches!
Stroll along the route of Greenville's Historic Downtown Walking Tour for a glimpse into the activities and lifestyles of the people who settled our city and made it prosper.

Notice the architectural details of former eras, preserved intact (don't miss Central Christian Church) or adapted to modern uses.

Imagine taking a ride on the "Katy" as you explore the former railroad station.
Take a breather in The Spot's shady garden or stroll through flower and vegetable beds of the Heritage Garden.
Greenville is an easy day trip from any location in northeast Texas. Visitors marvel at the old fashioned small-town charm of our downtown business district coupled with "big city" amenities that appeal to the most discriminating visitors.
Spend a day with us in downtown Greenville
— you'll come back for more!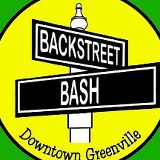 The Back Street Bash is coming April 27
Fun for the whole family - and pet friendly too!
Thursday, May 2, 2013
7:30 p.m.